Visit worldtravels.com for the full guide to Angola. Build a complete Angola travel guide and email to your clients - sign up for a trial subscription of World Travels Pro.
Angola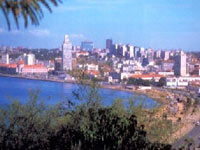 Situated in Central Africa, west of Zambia and north of Namibia, Angola is slowly realising its potential as a tourist hotspot after decades of bloody civil war, which followed independence from Portugal in 1975.
A stunning coastline strung with beautiful sandy beaches, a mountainous interior that gives way to deep gorges and tumbling waterfalls, and a number of national parks and wildlife reserves throughout, Angola offers hundreds of opportunities for eco-tourism to its visitors. Natural resources aside, the country also boasts a rich traditional culture, culinary specialities and people known for their hospitality and affability.
The picture is not entirely rosy, however, and the lack of infrastructure, the difficulties and dangers of overland transport, poor health services and crime are challenges travellers need to consider, particularly outside of the capital Luanda. But signs of economic recovery are evident, and the fact that Angola is rich in natural resources such as diamonds and gas, as well as being Africa's second largest oil exporter after Nigeria, brings hope of development for the not too distant future.
Climate
Being a large country, Angola's climate varies according to region. The north has a wet, hot, tropical climate, becoming dryer as it extends south until desert conditions prevail in the southern strip between the central plateau and the border with Namibia. Luanda's climate is moderately tropical. The dry, cooler season is from June to late September, while the rainy, hot summer season extends from October to May. Average temperatures are hot and humid.
Money
The unit of currency in Angola is the Kwanza (AON), which is divided into 100 centimos. Visitors should bring enough cash for their needs. Money can be exchanged at authorised bureaux de change, of which there are several in Luanda. US dollars are the most acceptable currency, but only the newer series US dollar bills (with large faces) can be used. Credit cards have only very limited acceptance in some establishments, and cash withdrawals are not possible, so it is unwise to rely on them. The few ATMs in Luanda do not accept foreign cards, and travellers cheques are not welcome. Kwanza may not be taken out of Angola, and when departing from the airport, travellers can be subject to searches and possible confiscation of any Angolan currency.
Passport Visa
Applications for visas must be made in advance in the travellers' home country. A valid yellow fever vaccination certificate is also essential for entry to Angola (the alternative is to face the risky mandatory immunisation at the airport).
Entry Requirements
US citizens require a passport and a visa to enter Angola.
UK citizens require a passport and a visa to enter Angola.
Canadians require a passport and a visa to enter Angola.
Australians require a passport and a visa to enter Angola.
South African nationals require a passport and a visa to enter Angola.
Irish citizens require a passport and a visa to enter Angola.
New Zealand nationals require a passport and a visa to enter Angola.
Health
Yellow fever vaccinations are required for entry to Angola if coming from infected countries. Malaria, hepatitis A and B, rabies and polio are all prevalent in the country, which has poor medical facilities excluding those in Luanda. Travellers should practise food and hygiene measures. Drinking water should be treated or bought in sealed bottles (avoid ice cubes in drinks) and care should be taken with hygiene and food, particularly street food. It is wise to take Malaria prophylaxis when travelling through Angola. In Luanda there are one or two good private clinics, but these are extremely expensive and require on-the-spot payment. Comprehensive medical insurance is therefore necessary, with provision for medical repatriation by air. The water supply is unsafe to drink, visitors should avoid eating unpeeled fruit and vegetables and the Milk in Angola is unpasteurised and should be boiled; alternatively use tinned milk reconstituted with purified water.
Embassy Consulates
Angolan Embassy, Washington DC, United States: +1 202 785 1156.
Angolan Embassy, London, United Kingdom (also responsible for Ireland): +44 (0)20 7299 9850.
Angolan Embassy, Ottawa, Canada: +1 613 234 1152.
Angolan Ambassy, Canberra, Australia: +61 656 341 9360.
Angolan Embassy, Pretoria, South Africa: +27 (0)12 342 0049.
Foreign Embassies
United States Embassy, Luanda: +244 222 641 000.
British Embassy, Luanda: +244 222 334 582.
Consulate of Canada, Harare, Zimbabwe (also responsible for Angola): +263 4 252 1815.
South African Embassy, Luanda: +244 222 330 593.
Irish Embassy, Maputo, Mozambique (also responsible for Angola): +002 5821 491 440.