Visit worldtravels.com for the full guide to Togo. Build a complete Togo travel guide and email to your clients - sign up for a trial subscription of World Travels Pro.
Togo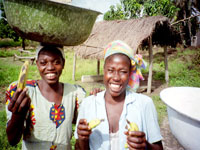 Wedged between Benin and Ghana, and bordered by Burkina Faso in the north, the skinny West African country of Togo is an intriguing, largely undiscovered destination. Though small in size, the country's length allows it to straddle an incredibly diverse range of environments. Savannahs and rolling hills contrast with sandy beaches, and lush rainforests compete with lakes and swamp plains. Add to this the interesting and diverse local peoples, a rocky political climate and a varied colonial history, and this is indeed 'Africa in miniature'.
Togo's history is characterised by political unrest and instability, caused by the 38-year long dictatorship of President Étienne Gnassingbe Eyadema, whose autocratic reign ended only with his death in early 2005. In an undemocratic and nepotistic move, Faure Gnassingbe, son of the former president, was instated as Togo's leader, despite a major outcry both locally and internationally. Amidst the political turmoil, thousands fled to neighbouring Ghana and Benin and remain there as refugees.
The political climate notwithstanding, there is much of interest to explore. The country's capital, Lomé, is in the south, situated on the country's sliver of coast on the Gulf of Guinea. Remnants of its German, Portuguese and British heritage are evident, with several colonial buildings, including the German Cathedral, nestling side by side with bustling traditional markets.
It is worth moving further inland, however, to explore the Togo that lies beyond its main city. Cascading waterfalls, lush tropical rainforest, traditional villages, game viewing and more can be found outside the capital. Boating and fishing on Lake Togo is very popular, as are hikes up Agou peak, Togo's highest point at 3,000 feet (914m), visits to the UNESCO World Heritage Site of Tamberma mud tower-houses in Koutammakou and various art and craft centres countrywide.
Part of the magic of the Togolese Republic comes from its 37 ethnic tribes, and visitors may be lucky enough to see one of the many traditional festivals that take place throughout the year, celebrating the culture and spirituality of the people in an interesting and varied environment. It may be small and off the beaten track, but Togo has plenty to offer.
Climate
Despite its size, the Togolese climate is diverse, ranging from tropical to savannah. The south of the country is humid, and temperatures can range from 75°F to 90°F (23°C to 32°C), while the north, described as semi-arid, experiences greater extremes, with temperatures ranging from 65°F to 100°F (18°C to over 38°C). The south experiences two rainy seasons, from March to early July and September to October, while April to August is the wettest time north of the Togo Mountains. Evenings can be cool in all regions, and dust storms are not uncommon. The best time to travel to Togo is in August, early September, and from November to April, as these are the driest periods.
Money
The unit of currency is the CFA franc (XOF), which is tied to the Euro and divided into 100 centimes. Only currency issued by the Bank of West African States ( Banque des Etats de l'Afrique de l'Ouest)is considered valid. Lomé and other major cities have bureaux de change and banks will also exchange currency; banks are usually open on weekdays. Travellers cheques, as well as most major credit cards are accepted, but mostly only in Lomé and other major cities, so it is best to carry cash. American Express is the most widely accepted.
Passport Visa
All travellers require a valid passport. A seven-day visa is available on arrival for all travellers; passports of non-Schengen countries will be confiscated, to be collected with the visa at the local police station the following day. An entry visa is required after the initial seven-day period, which is valid for 90 days. Visitors from non-Schengen countries are required to have three passport photos, and all require yellow fever vaccination certificates. Proof of a return or onward ticket is necessary, otherwise a refundable deposit to the amount of the normal return airfare must be paid to a bank or the transporting airline. Visitors must also hold all documentation for next destination if continuing from Togo. It is highly recommended that passports have at least six months validity remaining after your intended date of departure from your travel destination. Immigration officials often apply different rules to those stated by travel agents and official sources.
Entry Requirements
US nationals require a visa and a passport.
UK nationals require a visa and a valid passport.
Canadians require a visa and a valid passport.
Australians require a visa and a valid passport.
South Africans require a visa and a valid passport.
Irish nationals require a visa and a valid passport.
New Zealand nationals require a visa and a valid passport.
Health
A yellow fever vaccination certificate is required for all visitors to Togo over the age of one year. Malaria is prevalent countrywide and insect protection, as well as a prophylactic that has not shown signs of being resisted in the area, are essential. Insect protection is also essential against other insect-borne diseases, like dengue fever. Hepatitis A, polio and typhoid vaccinations are recommended. Cholera is fairly common, though travellers are at low risk. Bilharzia is present, and it is best to avoid swimming in fresh water. African trypanosomiasis (sleeping sickness ),meningococcal disease and rabies can also occur.
N1 avian flu is present, and travellers are advised to avoid contact with poultry. It is recommended that travellers be up-to-date on all routine immunisations. Tap water is to be avoided, unless boiled, filtered or disinfected with chemicals and it is safest to drink bottled water. Avoid drinks with ice. Milk is unpasteurised and should be boiled; any diary product made from milk should be avoided. Food must be well cooked, and all fruit and vegetables should be peeled or cooked. Medical facilities are poor, and health insurance is recommended, as is a supply of basic medication (e.g. for travellers diarrhoea, headaches etc).
Embassy Consulates
Embassy of Togo, Washington DC, United States: +1 228 324 4212.
Embassy of Togo, Paris, France (also responsible for the UK): +33 (0)1 4380 1213.
Embassy of Togo, Ottawa, Canada: +1 613 238 5916.
Foreign Embassies
United States Embassy, Lomé: +228 261 5470.
British Honourary Consulate, Togo: +228 22 22 2714.
Canadian High Commission, Accra, Ghana (also responsible for Togo): +233 21 233 0302.
Australian High Commission, Accra, Ghana (also responsible for Togo): +233 302 216 400.
South African Embassy, Abidjan, Cote d'Ivoire (also responsible for Togo): +225 2244 5963.