Airport
Siem Reap-Angkor International Airport
IATA Code:
REP
Location:
The airport is 2 miles (3.3km) west of Angkor Wat, half an hour from Siem Reap city centre.
Time:
GMT+7
Contacts:
Tel: +855 (0)63 963 106
Transfer to the city:
There are buses available outside the airport terminal, and some hotels arrange private airport transfers if requested.
Taxis:
There are taxis available from outside the Angkor International Airport and the journey to the city centre takes about half and hour. A taxi to Angkor Wat will cost about US$5 from the airport.
Car rental:
There are car rental companies at the airport. While there are no international car rental companies in Cambodia, local companies do provide this service.
Facilities:
There are ATM's, duty free shops, food vendors, a coffee shop and Internet café available to visitors at Angkor International Airport.
Parking:
Parking is available at the airport, mostly outside the international terminal.
Departure tax:
International US$25, domestic US$10
Website:
www.cambodia-airports.com
Visit worldtravels.com for the full guide to Siem Reap. Build a complete Siem Reap travel guide and email to your clients - sign up for a trial subscription of World Travels Pro.
Siem Reap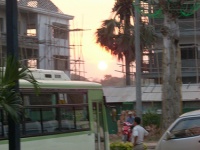 Siem Reap is the main access city for the temples of Angkor, and launching pad for onward travel into Thailand. Although marred by hastily constructed modern buildings, Siem Reap does have beautiful colonial and Chinese-style architecture adorning the streets of the Old French Quarter. The town itself offers many attractions for visitors, including Apsara dance performances, museums and craft shops. Siem Reap's most famous feature is the Temple of Angkor Wat, dating from the 9th century. Situated just 3 miles (5km) from the city centre, this intriguing site has been luring visitors for decades. Nearby, there are also silk farms, rice-paddies and fishing villages to explore, as well as the bird sanctuary near Tonle Sap Lake. Siem Reap is a popular holiday destination and has numerous hotels and guesthouses, both luxury and budget, as well as Western-style bars and restaurants to enjoy. Many of these venues can be located near the Old Market. With so much in the way of amenities and attractions for tourists, the town of Siem Reap is a great base from which to venture into this fascinating province.