Airport
Beijing Capital International Airport
IATA Code:
PEK
Location:
The airport is situated 17 miles (28km) north of Beijing.
Time:
Local time is GMT +8.
Contacts:
Tel: +86 (0)10 6454 1100
Transfer between terminals:
A shuttle bus service runs between the two terminals.
Transfer to the city:
Beijing's transport system was revamped for the 2008 Olympic Games. Shuttle buses run regularly to the city centre (about 45 minutes), Beijing Railway Station and major hotels. Metered taxis are also available, but it is recommended that passengers have their destination written in Chinese to avoid confusion. Travelling time to the city is about an hour.
Taxis:
Taxis from Beijing Capital International Airport are metered and should be about US$12 to most hotels but fees vary. Tips are not expected. The 17 miles (28km) should take about 40 minutes to drive. Avoid taxi drivers that approach customers and instead wait in the taxi line and insist on using the meter.
Car rental:
Car rental is available at the airport.
Facilities:
There are several bureaux de change, a bank and ATMs, as well as telephones, tourist information, numerous shops and duty free, and a business centre with internet access. A food corridor provides a range of eating and drinking options, while an entertainment centre offers everything from films to Chinese massage. Facilities for the disabled are good, but passengers should contact their airlines in advance for more information. Smoking is banned throughout the airport.
Parking:
The parking garage is located close to Terminal 3, and is connected to the terminal building by means of an underground walkway. There is also an airport subway, linking the parking garage to the terminals. Parking is free for the first 30 minutes; and thereafter, RMB 6 for the first hour, and RMB 5 for every subsequent 30 minutes. The maximum daily charge is RMB 80 for the first two days, and RMB 50 per day from the third day onwards.
Departure tax:
¥90 (international flights), ¥50 (domestic).
Website:
en.bcia.com.cn
Visit worldtravels.com for the full guide to Beijing. Build a complete Beijing travel guide and email to your clients - sign up for a trial subscription of World Travels Pro.
Beijing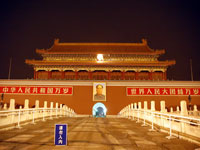 The capital of the People's Republic of China, Beijing (formerly Peking) is a very modern and exceedingly busy city (nearly 14 million people call it home) with high-rise buildings, international hotels and sprawling suburbs. The city is abuzz and bristling with cranes on the skyline as construction projects give rise to new skyscrapers and modernisation proceeds apace. However, Beijing also encompasses numerous attractions of cultural and historical interest, of which some, such as the Great Wall of China, the former Imperial Palace (known as the Forbidden City), the Temple of Heaven, the Summer Palace and the remains of Peking Man at Zhoukoudian, are UNESCO-endorsed World Cultural Heritage Sites. Chinese history and culture fascinates Western visitors, and Beijing is a great place to start exploring it. The city abounds in palaces, temples, mansions, gardens and tombs that epitomise classical Chinese architecture. It also has roughly 120 museums and more than 100 public gardens.
The first port of call for most visitors is the Forbidden City, which lies at the heart of Beijing with the rest of the city radiating out from it in a grid pattern. For five centuries this massive palace complex with 9,999 rooms functioned as the administrative centre of the country and home to a succession of emperors, who lived in luxurious isolation, surrounded by courtiers and retainers. The Palace overlooks the infamous Tiananmen Square, site of so much Chinese history with political drama and dissent.
In preparing to host what they hoped were 'the best games in Olympic history', Beijing undertook many major renovations in 2008. Public transport was improved, environmental issues addressed and a general clean up of the city was ordered. The Chinese saw the games highlight its economic rise and emergence as a world power. Some of the infrastructure, such as the iconic 'Birds Nest' stadium, is still in use for different purposes, and contributes to Beijing's unique landscape.