Airport
Ben-Gurion International Airport
IATA Code:
TLV
Location:
The airport is situated nine miles (14km) southeast of Tel Aviv, and 30 miles (50km) west of Jerusalem.
Time:
GMT +2 (GMT +3 from April to September).
Contacts:
Tel: +972 (0)3 975 5555.
Transfer between terminals:
A free shuttle service operates between the three terminals at 15-minute intervals.
Transfer to the city:
Train: Trains are the best option for getting into Tel Aviv; they're clean, fast and cheap. Trains run from level S of Terminal 3 to Tel Aviv Savidor Station. Tickets cost ILS 10 and the trip into town takes 20 minutes. Passengers arriving after midnight will have to wait until 3am for the first train of the day. Taxis: Taxis usually wait outside the arrivals hall. Taxi fare for the nine mile (15km) trip into town costs ILS 90. There is an added surcharge at night and on Jewish holidays and the Sabbath. Bus: Buses run from the nearby Airport City rather than the airport itself. Passengers can take the free Egged No. 5 Shuttle from the second floor of arrivals to Airport City.
Taxis:
Taxis usually wait outside the arrivals hall. Taxi fare for the nine mile (15km) trip into town costs ILS 90. There is an added surcharge at night and on Jewish holidays and the Sabbath.
Car rental:
Passengers eager to zip away to Tel Aviv or Jerusalem in a rental car will find the operators' desks conveniently situated in the arrivals hall. Well-known companies such as Avis, Budget, Hertz and Sixt all have facilities at the airport, as do Economy, Car Trawler and Eldan.
Facilities:
Money and communications: currency exchange, ATMs, banks, public telephones and a post office. Luggage: Luggage carts are free of charge. The Lost and Found desk and luggage storage are located on the ground level of the short-term (western) parking lot. Conference and business: Business facilities, including internet access and fax machines, are available in the airline lounges, particularly the Arbel lounge, the two Dan lounges, the El Al King David lounge and the Metsada lounge. The airport does not have conference facilities, but a number of hotels in Tel Aviv (such as the Carlton and the Intercontinental) offer great conference services. Information: Information desks are located in the departures area and in the airport's central arrivals hall. There are also a number of computerised information machines. The tourist information office is in the arrivals hall - just look for the desk with loads of brochures and pictures of beaches, the Dead Sea and Jerusalem. Staff speak Hebrew and English and the tourist centre is open 24 hours a day. WiFi: Free wi-fi is available in Terminal 3. Simply open your browser and surf away. Shopping: The main shopping area at Ben Gurion International Airport, located on the same level as passport control in departures, is aptly named Buy & Bye. There is everything from small change items (books and holiday souvenirs) to big spender boutiques with items such as Dead Sea mud cosmetic products, electronics, fashion and alcohol. Food and Drink: Passengers travelling to and from Ben Gurion International Airport are spoilt for choice when it comes to dining options. Passengers rushing to catch a flight can grab a quick coffee from one of the numerous coffee shops in the terminal. Fast food joints such as Mc Donald's and Pizza Hut have also made their mark, or for those wanting some kosher cuisine there are a number of places that stock typical Israeli salads, falafel, pita, humus and much, much more. Other facilities: The Ben Gurion Airport has two synagogues, medical clinics, a police station, a VAT refund desk, special needs assistance services, a playroom and a mother and child room.
Parking:
The area directly in front of the terminals is reserved for pick-up and drop-offs only. Short-term parking is available in the parking lot in front of Terminal 3 as well parking lot number one. Rates for short-stay parking start at ILS 16 for the first hour, and go up by ILS 3 per hour thereafter. The maximum daily rate is ILS 80. Long-term parking is available opposite Terminal 3. A shuttle bus runs from this parking lot to the terminal at 15-minute intervals. Long-stay rates are ILS 25 per day.
Departure tax:
The ILS 50 departure tax for leaving Israel is included in ticket prices.
Website:
www.iaa.gov.il/Rashat/en-US/Airports/BenGurion
Visit worldtravels.com for the full guide to Tel Aviv. Build a complete Tel Aviv travel guide and email to your clients - sign up for a trial subscription of World Travels Pro.
Tel Aviv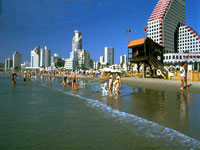 Tel Aviv is a vibrant modern city that is best known for its sun-drenched beaches, pumping nightclubs, designer shopping, crowded street markets and high culture. What it lacks in antiquities, Tel Aviv makes up for in commerce. One third of Israel's population have made this bustling metropolis home. Over weekends, residents from nearby towns head to Tel Aviv looking for entertainment and relaxation and city-slickers spill out onto the city's beaches to soak up the Mediterranean sun along a six-mile (10km) stretch of golden sand. The diversity of the population is reflected in the architectural variations and influences, such as the Yemenite Quarter and the Vodka cafes of Allenby Street. Tel Aviv also provides an ideal base from which to explore other parts of Israel, including Jaffa, the Galilee area and Caesarea.